Toa of Boy
Language Arts
Our plan is to alternate between
poetry
and
Writing Strands 3
. I really liked
this article about including poetry
in the curriculum and we'll likely follow some of the approaches it recommends.
Toa still likes read aloud times, so we'll continue to get chapter books from the library for reading together.
I want to do a little grammar to keep it from getting forgotten. I think we'll
diagram a sentence a week
for practice and maybe we'll review a
few punctuation rules
from time to time.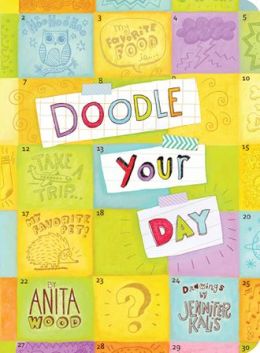 Also, I found this really fun daily 'journal' called
Doodle Your Day
. Quick, fast, fun, half page writing and doodling prompts for each day of the year. Totally getting Toa one of these. Might get me one too! (Behold, my amazing grammar at work!)
Last, we'll continue to use
Spelling Power
. That has been a highly effective program for us this year.
Math
Sweetling found
Life of Fred
books at the homeschool convention. I had never heard of these before, but they totally rock! Sweetling was sad that she hadn't found them in time to use them for her math.
We're going to start with Life of Fred: Fractions and Life of Fred: Decimals and Percents. And then we'll go from there.
Also at the home school convention, Sweetling and I wondered into the Timberdoodle booth. We were there for an hour playing with the toys and games. I found a few things to add into Toa of Boy's 'math' curriculum. He is such a great engineer and builder, and I want to continue to nurture and grow those sections of his brain. (His delicious brain, yum, yum.)
Here are the additional resources. I think we'll pick one day each week to allocate to each of these (so chess day, clicko day, lego day, etc.)
Think Fun: Solitaire Chess
Clicko Brain Builder Series
Lego Adventure Book
Science
Rocks. This year's science is all about rocks. We are reading two books from
Northwest Treasures
.
First, we are reading Bedrock Geology. I looked this over at the homeschool convention. It is full of great full color photos...like one or two on every page. Great for my visual learner. Second, we got the full Volcanos kit...the book with lots and lots and lots of rock samples.
At co-op, Toa of Boy is taking Hands-On Science. That class promises to be right up Toa of Boy's alley.
History and Geography
We're going to continue with
Mystery of History.....Volume 2 The Middle Ages
. We read through volume one this year and I like the nice chronological overview it gives to history. I thought drawing the figures and photos for the timeline provided a nice hands-on review each week. We'll supplement with stories from
Famous Men of the Middle Ages
.
At co-op, Toa is taking World of Food. Check out the class description:
Do you love to explore new places and try new foods? Then join us in World of Food! We will journey around the world as we learn about the diversity of food sources, preparation techniques and dining customs of different cultures. We will dive into the top 20 cuisines served around the world, what makes each one unique as well as what they all have in common. This class will require a small amount of outside work each week to help us remember what we are learning. There will be one research project and one final review each semester, and LOTS of yummy and interesting foods.
Bible
We liked the Doodle Your Day book so much that we are going to doodle our daily devotions. We'll take turns picking a scripture verse to memorize for the week, and each day we'll take a few minutes to doodle the meaning or the symbolism in part of the verse. (I found a
really cool blog
by a woman who puts up a devotional doodle every Friday. )
Art
Toa is taking a painting class at co-op, but, more importantly, Toa has set himself a goal. Over the next two years, Toa wants to draw each of the 716 pokemon. He wants copic markers for his birthday. I want to rearrange the furniture in his room to take out his seldom used computer desk and replace it with a long work table, half of which can be dedicated to drawing and half of which can be a lego building station.
P.E
Toa will start his second year on the swim team and he's also taking a phys ed class at co-op.
Language Arts
Sweetling and I are going to complete a more academically advanced American Literature study than the one we did a few years ago. Sweetling selected
this textbook by BJU Press
to guide us. We looked at several options for literature at the homeschool convention, and this was the one she liked the best. She felt that the discussion questions really had some substance to them, and weren't just regurgitation questions.
We also need to practice essay writing for college entrance exams, but I haven't done enough research on a resource yet.
We do have a Test Prep DVD and workbook from
College Prep Genius
that she will work through.
Foreign Language
Often the bulk of Sweetling's curriculum. This year she is taking Latin 2 and ESL 3 at co-op. She is also going to be the English to Spanish translator for the PTO at a local elementary school. Plus all the Japanese to English to Spanish she is engaged in on several fan sites and online forums.
Math
Sweetling wishes to review her high school math in order to prep for the SAT and ACT tests. We are going to start with the
Official SAT Study Guide
and go from there.
Science
Sweetling is taking Marine Biology at co-op. Since this is an advanced/honors level class, the students had to earn their way into the class. She is pumped about it.
History
In addition to our family study of history, Sweetling is taking History of Western Civ at co-op. Class description:
In an era of rampant multiculturalism, one man is bravely willing to stand up and declare that Western Civilization, that tired, old fossil that has brought us nothing except liberty of conscience, equal justice, freedom of speech, religious tolerance, Christian virtue and the delicious peanut butter cookie, still deserves some props. In this class, we'll explore the foundations of Western Civilization in ancient Greece and then trace its development through the Roman Empire, the Middle Ages, Renaissance, Reformation and into modern times. The path was not always straight, the destination not always sure, but great men and women carried forward the torch of an ideal that still casts the brightest light in the world today. Maybe not for much longer, so, if you're interested in the moral, spiritual, cultural, intellectual and physical inheritance that has created what's best in today's world, take this class.
Bible
Again, in addition to the family doodle devotions, Sweetling picked out an inductive Bible study she would like to work through with me. Called '
How Do You Walk the Walk You Talk
', it's from Precepts and it's designed to be a "40 minute/no-homework" study for a group that meets once a week, but Sweetling and I are going to take 10 minutes or so 4 days a week for the study. It should only take us a few weeks to work through it, and then Sweetling can select something else if she'd like.
Art
Sweetling is never hurting for independent art projects. She regularly enters contests and such for designing various characters. This year, she is also taking a high-school level painting class at co-op.