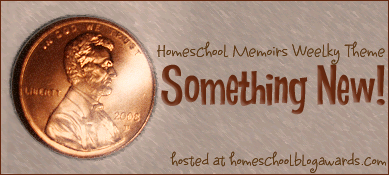 Something new. Something new. (Something borrowed, something blue.) You know, maybe I shouldn't try to do my writing at the end of the day.
The biggest new thing we're doing this year is that we have joined a co-op. We've never participated in one of those before. Mostly because our schedule always seemed so full, the thought of adding something to it had no appeal. Zero. Zilch. Nada. Ok, it might have appealed to the Sweetling, but it didn't appeal to the Mommy. As far as the Mommy was concerned a co-op meant extra fees, extra driving, extra commitments...since the parents have to sign up for something...extra work, and a whole day away from our chosen curriculum. So, pretty much, a lose-lose situation.
BUT, this year, we've joined a co-op that's made up of families all using the same curriculum we are using. So now, instead of the co-op being a burden, its a huge help. Instead of losing time away from school, we're gaining time...since some subjects will be almost completely covered during co-op.
Today (Thursday) was our co-op "kick-off" party. We walked into the cafeteria, and though both children had been waiting and waiting for co-op, both children became shy and nervous. Toa of Boy *clung* to me, absolutely petrified. In response to his repeated questions, I had reassured him over and over again as we walked from the van to the building that I was not leaving him, that I would be with him the whole time. Yet still he clung to me tighter than a velcro monkey. I don't think he's done that since our first month home from Guatemala. He refused to look at anyone or anything, but just buried his face in my shoulder. It struck me then, he would never, ever have been ready to go to a traditional school this year. As well adjusted, confident, and out-going as he normally is, he obviously still has anxiety separation. Forcing him to go to kindergarten on his own away from home might have only intensified his fears.
After the Pledge and songs and prayer together, we divided into groups by grade to go to our classrooms. Sweetling headed off with the fifth graders and I went with Toa of Boy and the kindgergarteners. In kindergarten, we sat at a table together and colored with our brand new school supplies. Toa of Boy shared his crayons. (Toa of Boy got over his fears as soon as he met the cute little blond girl in his class.) We teachers chatted a little with the kids, trying to gently draw them out and get them comfortable. It was a nice half an hour.
In the meantime, Sweetling's class put away their supplies and played Hangman on the chalkboard. Sweetling went first in the game. Her word was "duplicate." No one guessed it. The next girl chose "enchilada" as her word. The class guessed that. Then a boy went up and chose "maniac" as his word. That eventually stumped the class. As the game was progressing, the boy decided to draw a maniac hanging from the hangman's giblet. At one point he put huge ears on his stick figure. Sweetling asked, "Are those mouse ears?" Another girl chimed in, "Who is he? Dr. Two-Brains?" I'm so glad Sweetling is in a like-minded group of children. She's going to have a great year. (For those of you who don't know, Dr Two-Brains is one of the villains on
Word Girl
, Sweetlings favorite show.)
One of the mom's organized some carnival type games with prizes, and we all went outside. I worked on of the tables, and Sweetling and Toa of Boy stayed together to play the games. Then we all went inside for pizza. Yum :)
I have pictures, but they are still on the camera. I'll ask the Jedi to grab those for me tonight. Then I'll edit my post to put the pics up.