Christopher Robin's menu board looks nicer, but my post has links. (Really, this is all about the links, having found my recipes, I don't want to lose them again.)
The clever reader will note that I haven't quite figured out some days. Very good, clever reader.
Thursday
: Taco night. It's like Taco Tuesday, but on Thursday.
Friday:
Big Fat Nothing. Going to the symphony earlier that day (birthday treat from the Jedi), and then out to eat a SmoQ for lunch. By dinner, neither the Jedi or I will be hungry, but the rest of the family will still want food. Silly them. Maybe I can talk Sweetling into making baked salmon.
Saturday
: Omelets
Saturday gaming snacks:
Chocolate Lasagna
Apple Pie Tacos
Sunday:
Beefy Biscuit Cup
s, butter beavers, corn....wanted onion rings but Aldi's didn't have any.
Monday (St. Patrick's Day):
maybe corned beef hoagies, fries. What is a maybe corned beef hoagie? It was my menu option, until I learned that the Jedi doesn't like corned beef. I might pick up corned beef from the deli for some of us, and roast beef for the Jedi.
Tuesday:
Grilled Chicken & Pineapple Quesadillas
. Of course, I don't have a grill, but that won't stop me from trying this.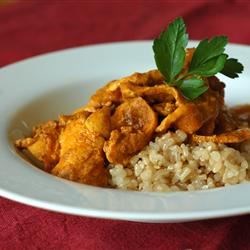 Wednesday:
yeah, I don't know. I was going with Crescent Chicken Bake, but Toa of Boy has been asking for
Chicken Curry
, so I might have to suck it up and make a curry. Which of course requires the making of
naan bread
.