Less than 6 weeks till our trip, and I've been slacking off on the planning. The Jedi, however, has not. "Slacking off" has never ever been a part of the Jedi's mode of operation.
With that in mind, the Jedi has the day we're spending in the Denver/Boulder area all mapped out. And had nailed some spots west of there as well. We'll be leaving Denver/Boulder in the morning, to drive west over the Rocky Mountains. How cool is that?
WAY COOL. That's how cool.
--Depart Denver, 8am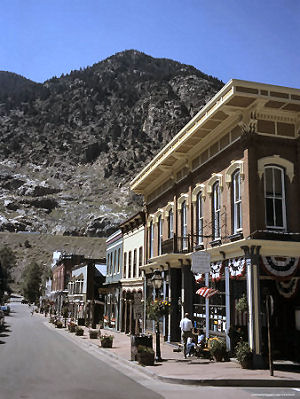 The coolest thing in Georgetown is definitely the train. However, the train is expensive and would take way too long. The buildings are still really cool looking.
--Grand Junction, CO 12-2:30pm
Judy's Family Resturant
435 Highway 6 and 50, Fruita, CO
Hot Tomato Cafe & Pizzeria 201 East Aspen Avenue, Fruita, CO
End Zone 152 South Mesa Street, Fruita, CO
--Moab UT(take out dinner, which we will take with us to Arches) 4:45
--
Arches National Park
UT 5-6:30 pm
Here's a
MAP!
And here is a list of
hiking trails
.
--Springville UT (uncertain about this stop. I want something to break the drive up, but....)
Sammy's Café 27 North 100 West, Provo, UT 84601
(pie shakes, we could get them to go perhaps)

--Salt Lake City UT 10:40pm