For a couple of weeks now, the Jedi and I have been talking about adding a dog to the family.
We have been researching breeds and rescue organizations and discussing what would make a good match for our family as well as what changes in house and routines would need to happen for the dog to be safe and well cared for in our home.
Here are some of the characteristics we are looking for--
good with children
trainable
a good watchdog
hypoallergenic
medium in size
2 to 5 years in age
from a rescue or adoption agency
When you put those parameters into effect, there's only a few breeds that might work. Oh sure, there's lots of great breeds out there, but only a few that we can get through a rescue or adoption agency. (And while I don't have anything against a legitimate breeder, our family is about adoption, so that is the preferred approach.)
greyhound
standard poodle
standard schnauzer
labradoodle or other poodle blend
Of those, greyhounds seem like the best fit....except that they aren't generally watch dogs from all the info we can turn up on them. I really want a dog that will sound like a wolfhound when someone comes to the door of the house. And it seems like they have to be leashed and supervised outdoors at all times to keep them from taking off in pursuit of something.
So, I've been researching the amount of care a standard poodle would take. I'm especially concerned with the grooming aspect. Understand, I'm not talking about maintaining a show cut on a poodle. Not only is that impractical, it also isn't the 'watchdog' look I'd be after. Check out these 'pet trims'...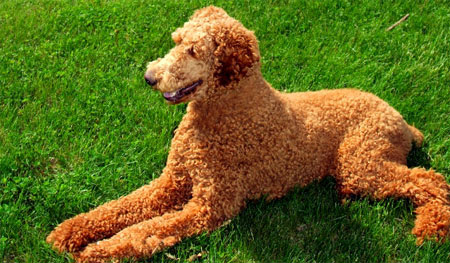 Those don't look like fru-fru show dogs. Those look like loyal family dogs. That's what I want.
We put in an application for Zoboo. We still have a lot to do in the house before he comes home, if our application is accepted. But look how wonderful he his and
read his write up on Petfinder
.