Back story:
Late last winter, I brought home from the library the book,
A Year of Pies.
Because, after all, my family needed a year of pies.
We tried three recipes from the book, and found that they weren't quite the sweet, old-fashioned flavors we were looking for. They were good and they were unique, but they weren't the comfort food that I expect in a pie.
(Sweetling called them "Hippy Pies." There was, in fact, a recipe for a fern pie made from freshly harvested fern fronds, but we didn't try that one.)
The book did have
the absolute best recipe and directions for a pie crust
that I have ever encountered. And that includes the personal instructions and tutoring of my Mammaw, who was the best of country cooks.
Those beautiful step-by-step directions and the clear accompanying photographs made the book a treasure of a find.
There is no way I can do those pie crusts justice by reposting any of them here. (And yes, pie crusts, plural. The book had butter-shortening or all butter traditional crusts as well as four different types of crumb style crusts.)
You must find, beg, borrow, purchase, steal a copy of this book to learn to make the most flavorful, flaky, perfect crusts ever: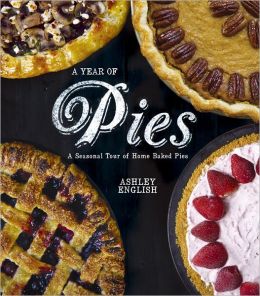 Nevertheless, there was some disappointment in my home over the actual pie recipes. That, and Toa of Boy felt cheated that "A Year of Pies" didn't mean three hundred sixty-five pies.
This fall, when the weather was cooler and it was time to start baking pies again, I got the book back out of the library. I need that perfect pie crust recipe.
The return of the book sparked a dinnertime conversation about what "A Year of Pies" might look like. A pie a day is just crazy. A pie a week is possible. Very, very possible. But, a pie every OTHER week is much more realistic.
So, from now until I get tired of doing this, I bring you....
Mrs. Random's Year of Pies.
I might even sweet talk the Sweetling into making a graphic for me.
Now, the first pie I bring to you is a crustless pie. This will give you time to find a copy of Ashley English's incomparable crust recipe. I'm serious about this. Don't settle for a crust that's adequate or even one that's pretty good. Go for the best. Ashley English is the absolute best.
In the meantime, I'll be super ambitious and try to share three crustless pies in November.
The first, and the best, was originally titled
"Fudge Pie".
I'll post the directions exactly as they were given to me, and add my notes in little parenthetical italics.
(Like this.)
The original recorder put in his own parenthetical comments. Don't get confused. Clearly mine are the wiser quips.
Here is the fudge pie recipe. It serves 8-10 people, or 1 chocaholic The changes for the chocolate chunk variation is at the bottom.

It comes from a cookbook called "Help! My Apartment Has a Kitchen"

11 tablespoons (1 stick + 3 tbsp) butter or margarine + more for greasing pan
3 ounces unsweetened chocolate
1 and 1/2 cups sugar
1/3 cup flour
2 large eggs
2 teaspoons vanilla extract
1/4 teaspoon salt
1 cup chopped walnuts (pecans are better)

Place an oven rack in middle position, preheat to 350 degrees. Melt butter and chocolate together in a double broiler, stirring occasionally. (Seriously, use a double broiler.)

Combine sugar and flour in a large bowl, mixing them together. Add eggs, mix well. Add vanilla, salt and walnuts (pecans) and mix again. Add melted butter and chocolate, mix until thoroughly combined.

Heavily rub bottom and sides of 8-inch or 9-inch pie pan with butter. Pour mix into pie pan and bake for 25-35 minutes. Insert knife into pie after 25 minutes, repeating every 2 minutes until knife comes out clean (or almost clean, as my knife never comes out totally pristine).

Remove pie from oven and let cool on a rack, then move pie to the refrigerator for at least several hours (I prefer overnight). Serve it cold, cutting it into slices. (Ok, it does need to chill some. It never survives overnight in my house. It's lucky if it gets to sit for a couple of hours before I'm serving it up.)

For the chocolate chunk variation, it is the same except for the following:

-- Instead of 1 1/2 cups of sugar, cut back to just 1 cup (I went to 1 1/4 cups.)
-- Use 3/4 semi-sweet chocolate chunks instead of 1 cup chopped walnuts (I like 3/4 cups semi-sweet chocolate chips, because they are easier AND 3/4 cup chopped pecans. What is this 'instead of' nonsense?)
-- It seems to be ready right at 25 minutes, maybe a couple minutes longer, but no more than that.


Public Service Announcement:
This pie is highly addicting. It might be concentrated magic. You can bring it to someone and garner their lifelong servitute after they have partaken in its amazingness.