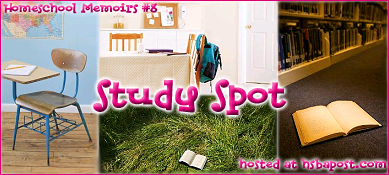 I see no point in tiring anyone with my inventive excuses as to why I haven't done the homeschool memoirs in oh, what, three weeks? Or why its Saturday before I even start Wednesday's post. Those of you who know me know that this is just par for the course.
My favorite spots to study. (The original assignment, which once again I haven't read fully, was probably for a single spot...but I'm a rebel. See Holly, I told you that submission was just not my strong point.)
In no particular order--
The armchair by the big picture window in the living room. I sit here, all by myself and read a book. Reading does so count as studying. If I'm reading aloud to a child (which Toa of Boy is just starting to be interested in and which Sweetling outgrew about five years ago, much to my dismay), there is just room enough for a little body to squeeze into the chair next to me. The windows look out into all the mature trees of our backyard where squirrels race and play. Sunlight and fresh breezes stream in.
The waterbed. This is great for sprawling to read aloud or to help Sweetling organize her thoughts for an essay. We haven't tried doing Toa of Boy's phonics lessons here yet...but we might, oh we just might.
The kitchen table in the morning with a cup of hot chocolate. Please note that this location only rates as a favorite study spot if a cup of hot chocolate is involved. This is where I sit and do my devotions. It used to be that Sweetling sat and did hers here at the same time, but now she's off on her own (most often in the armchair by the living room window.) This is also where we have snack and devotions for Sweetling's "God's Girls" club.
For Sweetling: the backyard. This doesn't work as a study spot for myself or for Toa of Boy, cause neither of us can stay focused. But on nice days Sweetling takes her algebra out to the little plastic picnic table and works. Or she takes her literature selection out to the swingset and sits in one of those double bench seat swings to read.
Our school room. I'm actually not sure this rates as a favorite. I like it, and I want to talk about it, but its not actually a favorite. Its just on the list cause this gives me an excuse to talk about it. Our house is a bi-level or a split level, I always get the two confused. You walk in, and are immediately on a little landing. Up half a flight of stairs is the top level that has a living room, a small eat-in kitchen, three little bedrooms, and the only bathroom. The lower level is walk-out along the back of the house, and below ground along the front of the house. It has four rooms. The computer/school room and the master bedroom are along the back, ground level. In the front, below ground, is the laundry room and a closet/storage room that was going to be a master bath when we first bought the house, until we actually got some estimates from a plumber. That plan went quickly down the drain. (Ba dump dump.)
The computer/school room is the largest room in the house and it is roughly divided into two sections. Along the short exterior masonry wall are two corner computer desks set up to make a fat t. The Jedi's computer is in one corner and one half of the T is his domain. The other desk holds two computers, one on each end of the right angle. They are used mostly for playing Age of Empires and other network computer games. Sweetling also occasionally uses one of these when she needs to get online during school, and going all the way upstairs to her bedroom is so far away ;)
The interior wall that separates the schoolroom from the laundry room is dark faux wood paneling, and it has two bookcases and some shelves holding our reference books as well as some vintage 70s fisher price little people toys for playing between lessons. The other long wall, across from the paneling, is also an exterior wall. My computer table juts outward from this wall to divide the room in two. It is the line of demarcation between the Jedi computer zone and the school zone. My computer desk sits on one sude of the table, by the wall, and the other side of the table is open for a working on a lesson with a child. (Open, if you don't count the various stacks of papers, books that didn't get put away, stuffed pencil cup, one or two webkinz, and overflowing desktop organizer.)
The school room side has a large glass double patio door that lets in a lot of light. The short masonry wall and the other long exterior wall are both painted white, so that helps offset the faux paneling as well. Sweetling's little desk sits in front of the non-opening side of the double door and faces into the backyard. *Right* next to her desk in the corner of the room is a tall bookcase which holds her school books and supplies, and the top shelf of which holds teacher books. Two low shelves, each about two feet high, are placed together to make an L and corner off Sweetling's 'area'. In front of this L, and between it and my table, sits Toa of Boy's little desk. All of his books and supplies as well as some games and puzzles are stored on the low shelves. Both desks were ordered from a school supply company online, and are the traditional lift lid student desks.
Tomorrow is our weekly home blessing. After this happens, and the school room is tidied up, I'll take some photos to post. Right now, the school room is very untidy and not wanting to have its picture taken.