Don't correct my spelling. Its good spelling, its just that the letters get in the wrong places sometimes. I'm killing time while I wait for the Jedi to be finished checking his email. Tonight is our anniversary. We ate Chinese, went to a park, and went out for ice cream. I'm a happy girl.
He had to hop on ebay to check on the auction for my OLD phone. Yes, yes, I have a nifty new phone, cause my other one didn't quite have enough memory to run Tom Tom smoothly. So, new phone for me. Grin.
I was blog surfing, and got sidetracked at Joy Comes in the Morning.
You Are Ariel!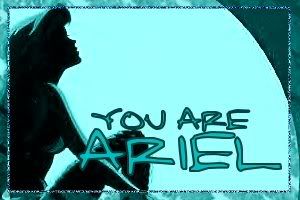 Headstrong and fiesty. You have a mind of your own that's full of romantic dreams about the world around you. Exploring exotic places is your ultimate dream, and although you can be a little naive you'll realize that there is something to be gained from your family's wisdom.
Which Disney Princess Are You?
I double dog dare Christopher Robin to take the quiz. Even now I can sense the eye rolling coming my way.
I realized today I needed to add a few goals to my agenda. I'll have to do that tomorrow now, cause I frittered away my time taking Disney Princess quizes.