We are California bound! Next spring or next fall, we will be taking a three week trek out to California through Indiana, Illinois, Missouri, Kansas, Colorado, Wyoming, Utah and Nevada. On the return trip will be driving home from California through Arizona, New Mexico, Texas, Oklahoma, Arkansas, Tennessee, and Kentucky.
For the next couple of days of school, we're doing some research together on places we'd like to stop and visit and things we'd like to do and see. My living room floor is covered in library books about the states. The kids and I have been reading through books, learning a bit about each state, and making a list of possible focal points as we read.
From our hometown of Cincinnati, it is only a two hour drive to
Conner Prairie
in Fisher, Indiana. Admission rates look to be about $13 for adults, and $9 for children. So $44 dollars for our family of four. If Nana comes with us, $56 for a family of 5.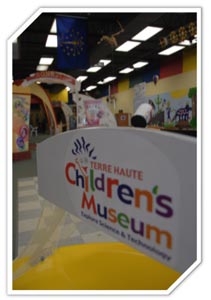 Or, we have a
Terre Haute Children's Museum
, which is free with our Cincinnati Museum Membership. It's about 3 hours from Cincinnati. Granted, Conner's Praire would be way more cool from a learning perspective....but I'm not sure I want to spend $56 dollars so early in our trip, when we surely won't be spending the day there. So, Terre Haute, and not Conner's Prairie. Food wise in Terre Haute is the
Clabbergirl Bakeshop
.
Also in Muncie IN is
Minnetrista
(also free with our Cincinnati Museum Membership). I'd love to tell you what exactly it IS....but I'm not sure. A garden? A nature center? Ah, here we go, "Minnetrista is a museum and cultural center that serves the people of East Central Indiana. Minnetrista offers exhibits and programs for children, families, adults, scouts, teachers and students that focus on nature, history, gardens, and art." And, "Located in the center of Muncie, Minnetrista is an informal learning environment with 40+ acres, a museum, an historic home, a nature area, gardens, a cabin, and other educational buildings."
I think I'll set Sweetling on a research project to figure out if we want to go to Minnetrista. If I ask the kids "children's museum" or "this other thing that might have some gardens and nature trails..." guess which one they'll pick? But if I say, hey Sweetling, check out this link and tell me what you think, then Minnetrista stands a chance.
(And, I'm an idiot. Guess what? The Terre Haute Children's Museum? That's in Terre Haute. The Minnetrista? That's in Munchie, NOT on our route.)
We have nothing for Illinois. YET. Rather, the things we saw in our library books were either way too north or way too south of our route along I-70.
Dinner, now, more later. Not that I'm addicted.
Dinner finished. I'm back. I know you missed me.
So, having discovered my lack of map skills, I'm ready for more humiliations. We are back to children's museum on the far side of Indiana. No cool artistic gardens for Mommy.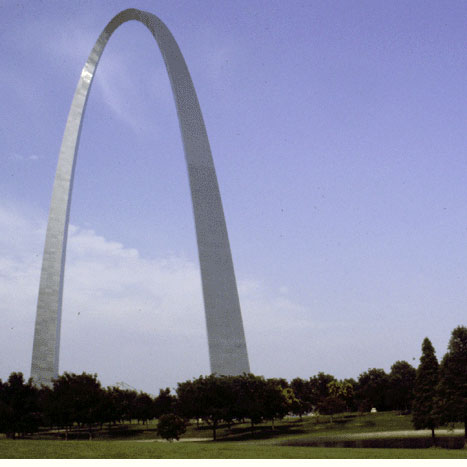 From Terre Haute, Indiana to St. Louis, Missouri is another 3 hour drive. What if we leave Cincy, drive three hours and stop to play and have lunch at Terre Haute. Then, we drive another three hours to St Louis. Now, sadly, that would get us to St Louis too late to go up in the
Gateway Arch
. Could we do dinner, spend the night, and do the arch before leaving the area the next morning? OR we could (ha ha), leave Cincy at 7am (when the pigs fly), stop in Terre Haute between 10am and 12 pm, and get to St. Louis at 3pm to go up in the arch.
The arch is open between 9:20am and 5:10pm during the time of year we'd be traveling. Tickets cost $10 for adults and $5 for kids. The last tram of the day runs from the bottom to the top 45 minutes before the arch closes.
Also of interest in St. Louis is the
St. Louis Science Center
, which claims to be one of the top 5 science centers in the United States. It's open between 9:30 and 5:30 Monday through Saturday. (And its a reciprical museum for our membership.)
Plus, we have friends in St. Louis that it would be nice to see again for dinner maybe.
Just for point of comparison, it's a straight 6hr drive from Cinci to St Louis. And you know that driving 6 hrs straight through with no stops isn't realistic with kids. But, neither do I really want to spend a whole day there either. Drat the museum AND the arch for closing so early.